Our second away match of the season saw Gleave's assemblage trek up the hill to Chapelgate, Scholes in a match that saw a calculator-killing runfest, Hepworth residents shaking their fists due to balls all-too-often landing in their flower beds and the flipside to such cricketing recklessness; a Boycottian defence that Yorkshire's proudest cricketing export would have been proud of.
It was back to the cadet-grey skies and baltic-cold conditions and we welcomed back popular diminutive professional Shreevats Goswami after he landed midweek following a family wedding in South Africa. Another new face; Gleavey himself, gingerly testing out his busted ankle and sensibly (yes, I know!) retreating deep down the order. In emergency, break glass. Luke Procter meanwhile will need to wait another day to make his Delphinium debut; a niggle when fielding in the previous days Lancashire v Leicestershire one-dayer means he sat out on a precautionary basis.
Scholes captain 'Keith' Noble bemoaned his luck with tossing coins so far this season. He fancied paper, stone, scissors instead. Gleave calls heads and Her Majesty's eyelashes flutter beguilingly, face side up to Noble's chagrin. "Five on the spin" he sighed. Delph will take first knock on a pleasing looking wicket.
The openers are Mosun Hussain, in menacing form with the bat and a reputation that's quickly sending tongues wagging around Huddersfield. And Nathan Jones, in uncertain form with the bat and quickly causing head scratching amongst Delphers. Bit of imminent confidence-boosting will sort that ghastly run of form out, no danger. His technique is sound enough as he maturely pods away those dangerous early deliveries. Scholes' Brook brothers; Tom and Louis know how to make batsmen squirm uncomfortably in the first few overs. It's a craft that's just implanted in their DNA as they beat the bat on a number of occasions. It seems only a matter of time before one of them hits its spot like a timid stroll through a minefield. 21-balls in Brook v1.0 (Tom) skids one on to Nathan's pad. 11 voices in unison, it's hard to argue against that LBW decision.
Mosun though, he seems to be seeing a large red beachball. James Noble has done his homework on him; sets a big offside field. One mis-timed cut shot and you're toast my friend. Lesser mortals would fall into that trap regularly but not our Mosun who seizes upon that odd bad ball, dispatching them over the boundary to keep that scoreboard ticking. Shree joins him. Not much rustiness from the bijou Bengalian, they're like brothers from other mothers and efficiently lay down the perfect platform for greatness.
If you could set the perfect first innings scenario on paper this would be it. Scholes' hungry fielders are fed a diet of almost nothing. Not even a crumb as singles are skipped and boundaries are picked out only when needed. It's a disheartening sight for the opposition when the second wicket falls with 15 overs left and nearly 150 runs on the board. Hussain, on 41, offers a rocking horse deification-rare chance, looping up past mid-on. James Wharton isn't quite in position and legs it but shells the opportunity. Like a bar of soap it squirms away and the Chapelgate faithful lament on what they could've won. Goswami, fifty in the bag goes for gold, dancing down the track threatening some major damage but he mis-times a shot too many and picks out Hill the kiwi deep on the edge.
Jeweller Simmo's like he's just come across a raw diamond for free. 15 overs to play with and a tired and disheartened bowling attack to face. The Oldham Gold-purveyor won't be squandering this moment. He needs a new partner soon after being introduced as Mosun falls. It takes something outrageous to remove this pleasant young kid from Leeds and that comes in the form of a ridiculous one-handed catch by Alex Clegg. Arron Lilley, chomping at the bit comes in. Perhaps Scholes may wish Clegg hadn't pulled such a fine rabbit out of the bag?
What follows is sheer destruction: The houses surrounding Scholes' attractive little abode now come under attack. It's carpet bombing by proxy as both front gardens at one end and farmer's fields at the other end are sprayed with sixes from the flashing blades of Simpson and Lilley. Another fifty; the third of the match is scored by Simmo. Heroic fielding isn't enough to stop them either. The warmest applause of the match so far is reserved for Jack Cooper who like a Marvel superhero manages to get under a colossal hit from Lilley but can't quite keep hold as he hit the ground. It was a marvellous stop. It would've been a catch to be the talk of the town for years if it'd have stuck.
It's simply damage limitation for Scholes from here on in as Simmo departs when Jack Cooper does in fact hold on to one and Arron leaves the party in a mess for a simply sensational 83 in 35 balls. Little cameos are put in by Shak, Luke, Kasim and Ricardo Simpson but they're merely tipping cups over following a chimps tea party.
Scholes must get off to a whirlwind start. Six-an-over from the off, it's enough to make grown men cry. But the only crying right now was tears of laughter as Shreevats Goswami – obviously used to quite balmy climes – first jogs on in a short-sleeved shirt and then retreats to the dressing room before a ball has been bowled. The sight of him re-emerging with around four jumpers like some sort of awkward Russian doll is cause for high amusement. Opening for Scholes is a pair of young upstarts; Alex Clegg and James Wharton.
Three wickets in nine balls has James Noble's masterplan in tatters as Clegg is the first to succumb. A fumble by Richard Simpson alludes to a quick single but Clegg doesn't account for an arm like Zeus from young Simmo. A direct strike on the non-strikers end takes down Clegg. Then Kasim; who's started the season on fire removes Tom Chadwick, who's X-rated expletives as he left the pitch would've been enough to make Chubby Brown blush. The nice Mr Chadwick to be fair to him offered whole-hearted apologies up to the scorebox soon after, although I reckon home scorer Vicky has heard them all before thrice over. And worse. Yorkshire Academy startlet Benji Birkhead follows next ball after 'whispering death' Kasim trashes Birkhead's table and chairs with a stunning length ball. Hill faces the hat trick ball and soberly resists a waft at Kasim's delivery just outside off-stick. But he can't do anything about one a few balls later which is too close to comfort and he gets a big edge to grateful Grant behind the stumps. Grateful Grant gets another as Tom 'Bruiser' Brook is adjudged caught behind by umpire 'Bomber' Beaumont. Five wickets down and Scholes are barely into double figures.
Application is what's needed to claw back some pride. That and sheer bloody-mindedness. Skipper 'Keith' has it coming out of every orifice. The game's gone, he knows that. But he's not going to go down with a whimper like his colleagues before him. With the eyes and scars to prove it, he's faced down many a Shak and Walter (Kasim's newfound moniker) before. He steadies his ship well and is helped by opener James Wharton who's still there, haunted by recent events and is a willing ally in Keith's quest.
Kasim and Shak, The Great Destroyers take a well-earned rest. Trial by spin from Lilley and Nathan Jones shall commence. Wharton's learning curve develops some more as he blossoms under Noble's tutelage. Forget runs now, there are overs to bat out. He ought to have been out and has the hostile climate to thank as Goswami's hands are like hopeless rubber blobs due to the cold with Shreevats gubbing a chance for wicket #6. A catch is taken by Shak though as Warton eventually offers up a gift that's too good to turn down.
Noble meanwhile has his stall well and truly set out and briefs Jack Cooper on his masterplan. The brawny Cooper is a good foil to Noble and elates the few spectators brave enough to still be out there rather than the alluringly warm clubhouse. A burst of pyrotechnics is snuffed out after Lilley gets under one that disappeared into the clouds. Not many would keep hold of those but Lilley does.
Noble brings up a half-century. Boy he deserves it. All it took was a bit of stoic application and stubbornness. His team talk is set in stone for the next however-many-it-takes matches as he grimly accepts the plaudits. Josh Brook has bought into this strategy in every way and probably way too far as he proceeds a marathon entrenchment that can only be stopped by overs running out. Even Noble has had enough and changes tack to start launching Nathan and Arron out of Chapelgate. 'Walter' Kasim, another with safe hands in any environment takes a good catch in front of the permafrost-encased clubhouse.
Josh doesn't heed the warning. It's batting practice to him. It's a fifty! Look at all those glorious dot balls in a row. It needs to be brought to the attention of Yorkshire's premium Twitter cricket commentator post-haste. Had anyone still been left alive around the outskirts a cap would've been sent out to collect treasure.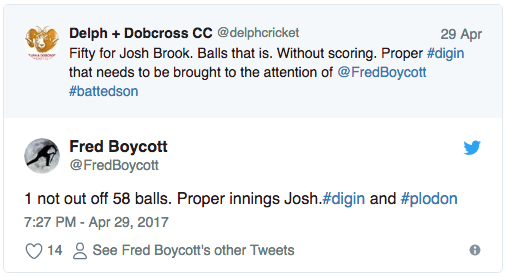 Plod on indeed. Yes, of course Josh finished not out. How could he not. He completely ruins his innings by being forced to run a single after 58 balls to deafening cheers from his comrades. After brother Louis is out lofting a shot that Lilley could catch blindfolded with an arm behind his back, Josh and popular wicket keeper Richard 'Bubbles' Holmes bat out the remaining overs. Bubs enjoying a rare sojourn into double figures himself as Scholes appended on 144-9 after 50 cold, cold overs.