We're offering a unique commercial opportunity to showcase your brand on our senior playing shirts for the upcoming season.
Three packages are available for the brand new match kit which is a great way to really push home your brand name in the local community. The flagship sponsorship position; the front of the matchday shirt is one prominent position that's going to be in high demand so move fast and get in touch with us if you're interested in taking it up. There are also two other positions; the sleeves or upper rear of all kit (matchday, training and T20) and also the T20 front.
The costs of sponsorship are:
Main Match shirt front - £1,250
Sleeve / Rear sponsor on all kits - £750
T20 shirt front - £750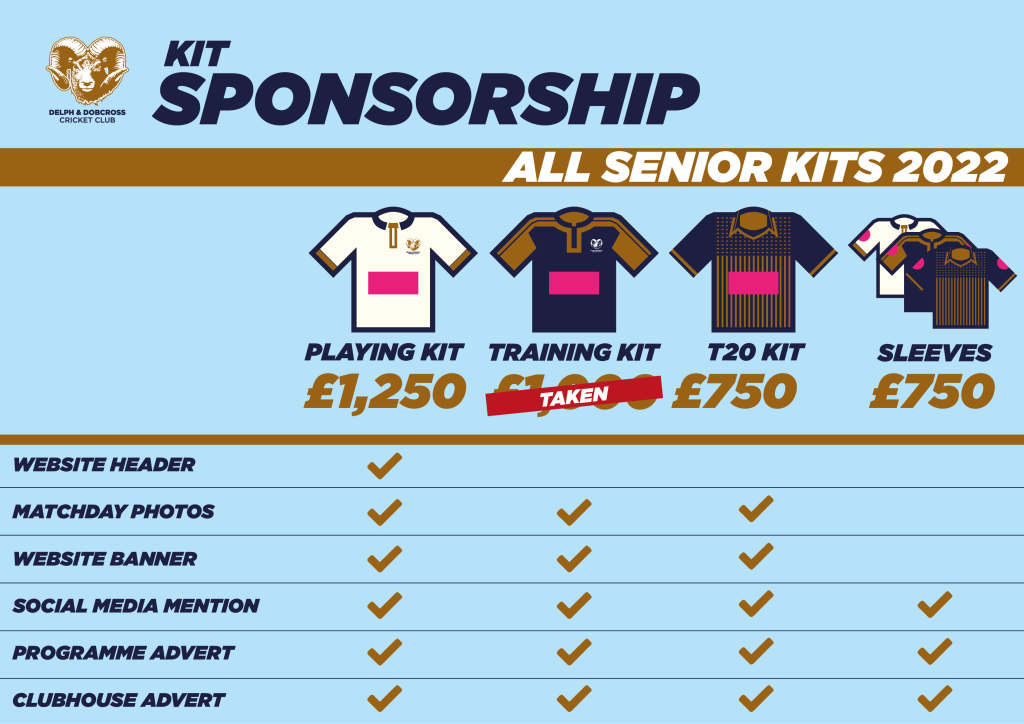 There are some massive benefits in supporting us via kit sponsorship. We're a well-established Huddersfield Cricket League club and our reach in the Saddleworth and Huddersfield areas is growing year on year. Our social media channels have several thousand active followers who read, like and respond to our output. When you sponsor a part of our kit, it features on all three of our senior teams. Every player has an obligation to wear the match shirt and will do so with pride.
Not only that, we upload a match day gallery of 60-150 action pictures most weekends with the galleries viewed by supporters and players alike so the exposure to your brand name is far reaching. Other benefits include mentions on our media feeds, a prominent space on the header of our website and advertising banners on the website and in match programmes.
If you'd like to know more, or make a firm enquiry on sponsoring, contact us via the following contact form, or call Jamie Harrison on 07749 950045.