It is to our great and overwhelming sadness to hear of the passing of West Indies test cricketer and former Delph & Dobcross professional Sonny Ramadhin, who has died at the age of 92.
We reflect on the life of an incredible man, who made our village his home following an explosive two-season residency as club professional in the 1976 and 1977 seasons. The roots he planted ran deep, particularly with his grandson Kyle Hogg who carved a successful county career inbetween cutting his teeth at Greenfield CC before a raft of sporadic appearances with us over eight seasons - 66 in total.
Unassuming in appearance at 5 foot 4 inches, this modest gentleman's beguiling off-spin bowling forged him a fearsome reputation where he played a total of 43 times for the West Indies claiming 158 wickets. In fact, it was a test match against England in 1957 where Colin Cowdrey's brutal and technically unsporting change of tack in dealing with the off break wizard, forced an eventual change to the LBW rule. Cowdrey and partner Peter May simply planted their foot down to pad away any delivery that was too short to hit during a frustrating battle of wits.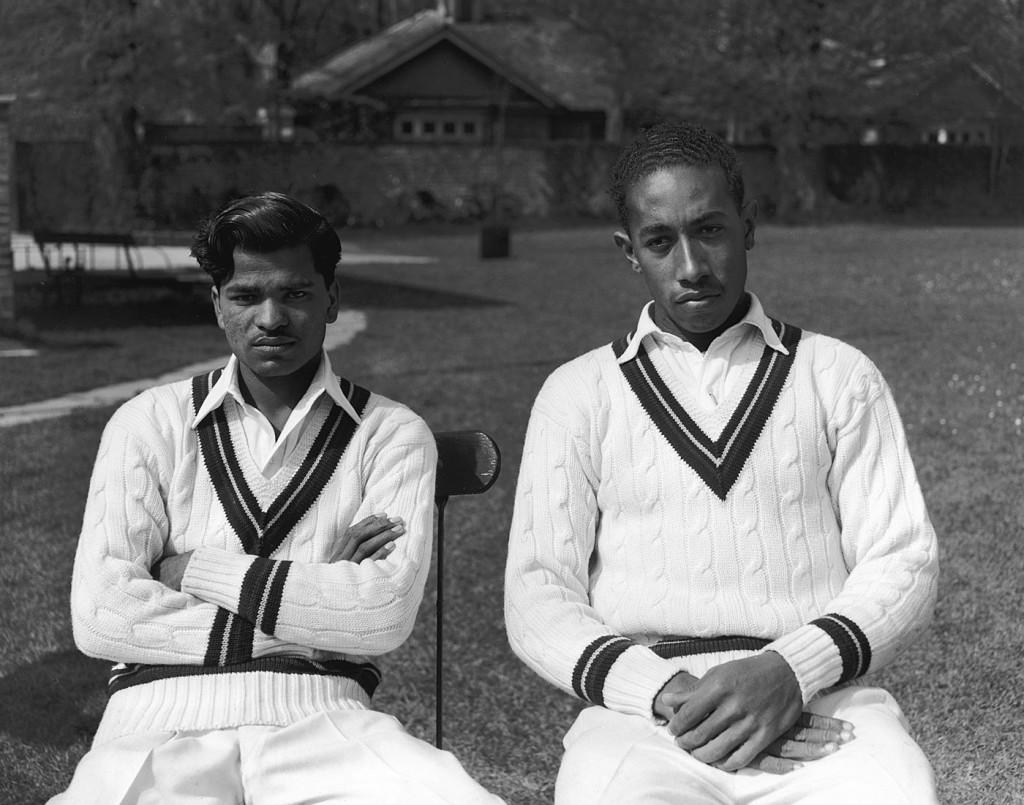 Sonny (left) with his West Indies Spin partner Alf Valentine. Between them they took just shy of 300 test wickets.
After a spell with Lancashire in 1964/65 and a longer period in minor county cricket with Lincolnshire (from 1968 to 1972), it was his years as a club professional that secured a remarkable reputation in local cricketing circles. He lit up the Central Lancashire League with nearby Crompton and Radcliffe and a couple of seasons over in Bolton at Little Lever and Daisy Hill bookended his career. The long hot summer of 1976 was where his mesmerising style seduced players and supporters at this club, Delph & Dobcross, blazing a trail which saw him break the Saddleworth League bowling record. That season he bowled 496 overs, 136 of which were maidens. He took a mammoth total of 134 wickets at an average of only 8.25!
He soon settled in the village with new wife June and for 25 years they ran the White Lion, a pub that's long been closely associated with the club. Sadly this came to an end in 1990 after brewery monopoly rules meant they would need to fully own the pub to continue. Nevertheless, they made many friends in the community over those years and continued to live in the village, bringing up son Craig and daughter Sharon [Kyle's mother], who herself was tragically taken too soon a few years ago.
Sonny continued to stay deeply involved in cricket even into his later years by becoming President at near-neighbours Friarmere CC. His son, Craig had recently completed his own remarkable milestone of playing for 50 consecutive seasons at West View.
Everyone at Delph & Dobcross Cricket Club send their sincere condolences to Craig and the rest of the Ramadhin family. Sonny was a gentleman and we're proud he represented our club so well.